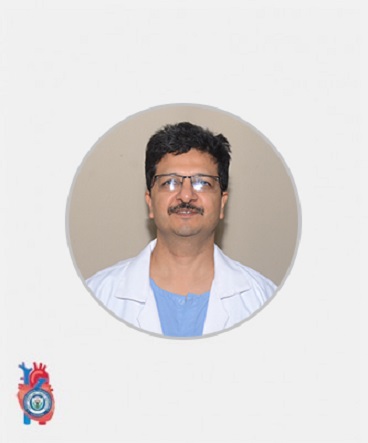 Dr. Bishav Mohan
Name: Dr. Bishav Mohan
Degree: MBBS, MD(Medicine), DM (Cardiology), FIC, FACC
Designation: Professor, Medical Superintendent
Special Interest: Heart Failure, Peripheral interventions, Pediatric interventions.
Introduction
A patient-orientated cardiologist with over 21 years of experience, Dr Bishav Mohan isthe Professor of cardiology and Medical Superintendent of Dayanand Medical College &Hospital Unit Hero DMC Heart Institute, Ludhiana. He did graduation (MD in Medicine)from Govt. Medical College, Amritsar and DM in Cardiology from AIIMS, New Delhi. Hehas wide experience in managing heart failure, hypertension, coronary artery diseaseand peripheral procedures. He has written numerous peer-reviewed articles, is amember of many prominent associations and is an accomplished, patient orientatedconsultant.
Started non surgical treatment of life threatening bleeding conditions in Punjab haddone more than 1000 such life saving procedures. Brought the concept of mechanicalbreakdown and lyses in high risk pulmonary embolism patients in India. First in theWorld to start ECMO Treatment for aluminium phosphide poisoning andmanagement of peripheral vascular disease. Stared aortic endovascular proceduresincluding management of AAA and aortic dissection. Recent accomplishment is TAVIprograme in the institute.
Keen interest in Creating Awareness for Preventive of Heart diseases for that till nowhas done 180 cardiac camps and 100 public meetings in different levels. Initiated theuse of electronic media for public health awareness, more than 1,00,000 healthyindividuals are getting the benefit. Has started Tele Medicine in the form of ECG projectfor acute care in the cardiology. Has written patient oriented books for patient likeHypertension, Heart Failure, Anti-coagulantion and heart attack.
Get Appointment Today - Sat 06

Get Appointment Today - Sun 07

Get Appointment Today - Mon 08

Get Appointment Today - Tue 09

Get Appointment Today - Wed 10

Get Appointment Today - Thu 11

Get Appointment Today - Fri 12

Get Appointment Today - Sat 13
Contact Info
Email: drbishavmohan@herodmc.com
Call: +91- 8283900579