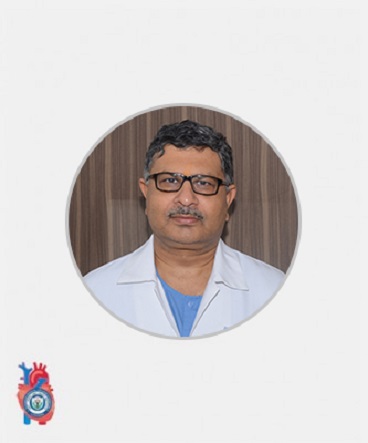 Dr. Rajiv Gupta
Name: Dr. Rajiv Kumar Gupta
Degree: MBBS, M.S, Mch
Speciality: Cardio Vascular Thoracic Surgery
Department Name: Cardio Vascular Thoracic Surgery
Designation: Professor CTVS
Introduction:
Dr Rajiv is proud to be Alma-Mater of DMC&H (Batch 1982) and working asProfessor of Cardio Vascular Thoracic Surgery at HDHI. He is trained by verybest surgeons Prof. Dr. K.R. Balakrishnan (Heart and lungs transplantsurgeon Chennai) and Prof. Dr. Brain Buxton and Dr. Mark Murton and Dr.Jai Raman(Australia) having rich experience of >25 years.
He has worked in number of prestigious institutions in the country andoverseas Viz.

Registrar Cardio thoracic surgery at Royal Hobart Hospital; Hobart(TAS) Australia.
Fellow Cardiac thoracic surgery at Austin and Repatriation MedicalCentre, Heidelberg Melbourne (Australia) and visiting fellow at RoyalMelbourne Hospital, Melbourne(Australia)
Assistant Professor CTVS Sri Ramachandra Medical College & hospital,Porur, Chennai.
Assistant Professor CTVS, CMC ,Vellore (Tamil Nadu)
Associate Professor CTVS, CMC Ludhiana (Punjab)(2003-2006)

Carrying with him an extensive experience of more than 25 Years, Dr.Rajiv isan expert in various Cardio Thoracic and Vascular Procedures that includesTotal arterial coronary artery Bypass grafting an beating heart; Mitralvalue repair & replacement , Aortic value repair replacement; repair ofpost myocardial infarction VSD and cardiac rupture; Ischaemic mitral ValveRepair; and Acute aortic dissection. He has also performed 1000 congenitalheart disease cases with good result.
Dr Rajiv has trained under Prof. K R Balakrishnan in the management ofend-stage heart failure which also includes heart transplant and lungtransplant patients.
He has more than 20 publications to his credit in national and internationalmedical journals and 3 chapters in books.
He constantly works to make heart surgeries affordable for those who needit the most.
Get Appointment Today - Sat 06

Get Appointment Today - Sun 07

Get Appointment Today - Mon 08

Get Appointment Today - Tue 09

Get Appointment Today - Wed 10

Get Appointment Today - Thu 11

Get Appointment Today - Fri 12

Get Appointment Today - Sat 13
Contact Info
Email: drrajivkr@yahoo.co.in
Call: +91- 8427516000