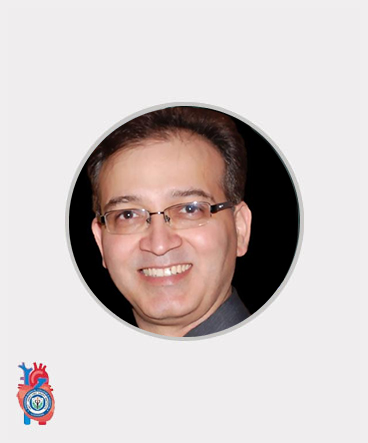 Dr. Sarju Ralhan
Name: Dr. Sarju Ralhan
Degree: M.ch. (CTVS) in June, 1996 PGI, Chandigarh M.S.(General Surgery) in Jan.,1993 SSGH, Vadodara M.B.B.S in Oct., 1989 Govt. Medical College, Patiala
Speciality: Cardio-Vascular & Thoracic Surgery
Dept. Name: Cardio-Vascular & Thoracic Surgery
Introduction
Dr.Sarju Ralhan specializes in the clinical evaluation and surgical treatment of diseases of coronary artery, aorta, including the aortic valve and root, ascending aorta, aortic arch, descending thoracic aorta, and thoraco-abdominal aorta.
2. Dr. Sarju Ralhan is an innovator and a leader in his field and he is highly experienced in coronary artery bypass grafting having performed more than 10,000 cases. He has special interest in OPCABGstrong> and Total Arterial Coronary Artery Bypass Graftingstrong> using bilateral IMA only. He has done around 2000 cases with this technique. He has conducted live workshop to demonstrate this technique in Lucknow.
He is highly experienced in complex aortic repair, such as repair performed in patients with connective tissue disorders such as Marfansyndrome, as well as emergent repair performed in patients with conditions such as acute aortic dissection or aortic rupture.
He is having 40 national and internal publications.
He is having 2 chapters in books.
Special Interest:
Coronary artery bypass grafting OPCABG
Total arterial complete revascularization with bilateral internal mammary artery only (More Than 2500 Cases).
Ascending aortic aneurysm repair.
Abdominal aortic aneurysm repair.
Endovascular repair of aortic aneurysms
Arch aneurysm repair
Heart valve repair and replacement.
Descending and thoracoabdominal aortic aneurysm repair.
Surgical repair of other aortic and cardiac anomalies.

www.sarjuralhan.com
Get Appointment Today - Sat 06

Get Appointment Today - Sun 07

Get Appointment Today - Mon 08

Get Appointment Today - Tue 09

Get Appointment Today - Wed 10

Get Appointment Today - Thu 11

Get Appointment Today - Fri 12

Get Appointment Today - Sat 13
Contact Info
Email: sarjuralhan@yahoo.com
Call: +91- 9814064210