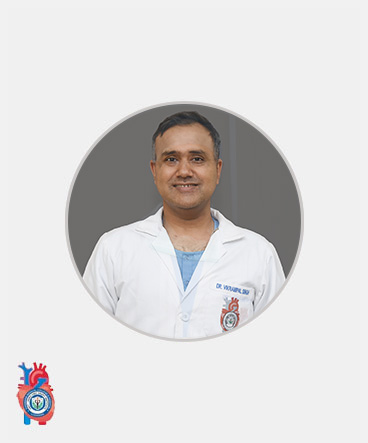 Dr. Vikram Pal Singh
Name: Dr Vikram Pal Singh
Degree: MBBS, M.S., Mch.
Speciality: Cardio Thoracic Vascular Surgery
Dept. Name: Cardio Thoracic Vascular Surgery (Hero DMC Heart Institute, Unit of Dayanand MedicalCollege & Hospital).
Introduction
Work Experience:
More than 15 years of rich experience in all aspects of cardiothoracic and vascular surgery.
Worked as teacher and examiner for Mch in cardiovascular and thoracic surgery under Baba FaridUniversity of health sciences.
Education & Training:
M.B.B.S. Govt. Medical College, Patiala.
M.S General Surgery Govt. Medical College Amritsar.
M.Ch from SMS Jaipur Rajasthan University of Health sciences
Training in heart failure surgery (Heart transplant and ventricular assist devices) fromWythenshawe Hospital Manchester U.K
Speciality expertise
Coronary artery bypass surgery
Valvular replacement and repair
Paediatric Congenital heart surgery
Vascular and aortic surgery
Extra Corporeal Membrane Oxygenation-ECMO
We at HERO DMC heart institute have a very dedicated team medical and para medical professionals,our aim is to provide ethical and best possible treatment for positive outcome of our patient.
Get Appointment Today - Sat 06

Get Appointment Today - Sun 07

Get Appointment Today - Mon 08

Get Appointment Today - Tue 09

Get Appointment Today - Wed 10

Get Appointment Today - Thu 11

Get Appointment Today - Fri 12

Get Appointment Today - Sat 13
Contact Info
Email: drvikrampal@herodmc.com
Call: +91- 9779044145