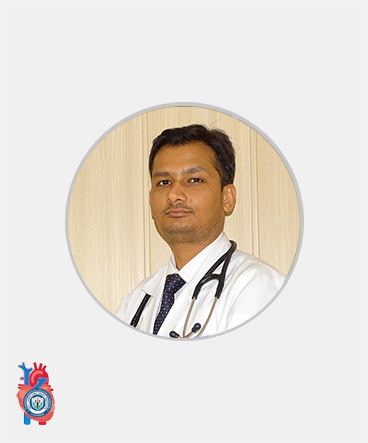 Dr. Gurbhej Singh
Name: Dr. GURBHEJ SINGH
Degree: MBBS, M.D, DM Cardiology(Sree Chitra Tirunal Institute,Trivandrum), Fellowship in Coronary & Structural Cardiac Interventions(Europe).
Speciality: Interventional Cardiology
Dept.Name:Cardiology
Designation: Assistant Professor
Special Interest:
Transcatheter heart Valve Interventions
Transcatheter Endovascular Aortic Interventions
Structural Cardiac Interventions
Complex coronary Interventions
Coronary Imaging (IVUS, OCT)
Peripheral Interventions
Introduction
Dr. Gurbhej Singh received his specialization in Cardiology from an institute of national importance(SCTIMST, Trivandrum). During his cardiology training he underwent foundation course in Bio-medical technology and medical statistics. His thesis was selected for oral presentation at an International conference at Hongkong.
After his cardiology training, he gained additional training and expertise in complex coronary & Structural Heart disease interventions from Europe. He was trained directly by proctors of the transcatheter aortic, mitral valve and endovascular interventions. He is experienced in evaluation planning & management of structural heart diseases. In addition, he keeps a keen interest in complex coronary Interventions guided by newer imaging modalities.
He is actively involved in academics and teaching as evidenced by many publications in national and international journals. He has received many awards at national conferences and presented many papers around the world.
He is associated with Hero DMCH since his residency and aims for quality and affordable health care, public education through outreach programs and highest standard medical education translating to better patient outcomes.
Achievments
Cardiology Society of India Heart failure investigator of the year award 2019 at Cardiology society of India national heart failure conference held at Cochin, Kerala in Jul'2019
Prof Shamer Singh memorial gold medal for standing first in university examination in the subject of anatomy in 2003
Young investigator award at Paediatric cardiac society of India national conference in 2015
Best paper award at Interventional council of Cardiology meet held at Trivandrum, Kerala on August,2016
First prize in Quiz at annual meet of heart rhythm society Kerala held at Trivandrum in April,2016
Cardiology young scholar award for standing first in cardiology quiz at Cardiological society of India -Kerala chapter annual conference at Kochi on 06 Nov 2016
Get Appointment Today - Sat 06

Get Appointment Today - Sun 07

Get Appointment Today - Mon 08

Get Appointment Today - Tue 09

Get Appointment Today - Wed 10

Get Appointment Today - Thu 11

Get Appointment Today - Fri 12

Get Appointment Today - Sat 13
Contact Info
Email: singhgurbhej229@herodmc.com
Call: +91- 9779610110